With broadcast messaging, you can send direct-messages to all of your checked-in guests who are active on Loop. Broadcast messaging is great for sending offers, deals, promotions and general announcements to your guests. Uses of the feature include:
Deals; e.g. soon-to-expire golf, restaurant or spa timeslots (net new revenue).
Promotions; e.g. advertising of hotel and partner services (net new revenue).
Group management; e.g. wedding or conference group re-scheduling
(net new revenue if positioned and sold to meeting planner as an 'event service').
Informational alerts; e.g. weather advisories, rescheduling, ski-lift closures, maintenance work
(excellent guest experience through proactive communications).
Emergency alerts; e.g. facilities issues, regional incidents or threats (preparedness and liability).
This is a great feature for engaging with your in-stay guests that you would otherwise have to do via email which is difficult, tedious and may include pre-stay and post-stay guests as well. Guests who are not currently checked-in or who have not engaged will not receive messages that you send. 
To get started, select Connect and open the Broadcast a Message tab:

Draft your message, confirm the location and click send:
You message will have been sent to all active, in-stay guests and will now appear in the inbox for reference:
​​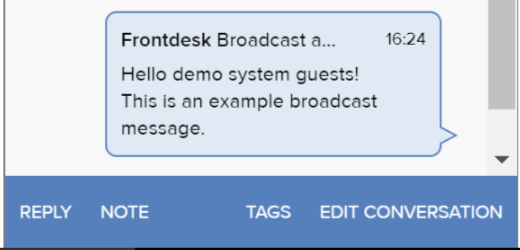 Broadcast messaging is the best way to target your captive in-stay audience :)
Note: More to come! See Broadcast Messaging: Detail & Future for more detail and future features of Loop Broadcast Messaging.