The following metrics are available through the Loop Dashboard reporting features. For goal setting, see Goals!:
Metric:

Example:

Calculation Notes:

Guest Happiness

 

The percentage of guest who are happy (based on their language and tone as measured by Loop).

Revenue

 

The total value of all ordered items based on the 'price' attribute of the OnDemand CSV menu configuration.

Request Count

 

The count of requests made using the OnDemand system.

Message Count

 

The total number of conversation messages submitted, including Guest messages, Staff messages and internal notes left by staff.

Message Response Time

 

The median response times for all chat message 'pairs.' In a Loop Messenger conversation thread a chat pair begins with the first customer comment and ends with the first-next employee comment. See Chat Pair  below for more detail.

Request Fulfillment Time

 

The time is calculated from the moment an item was requested to the moment the request was marked as "fulfilled" (for the first time).

Does not include: cancelled requests nor time-based items (e.g. wakeup call).

Guest check-ins

 

The count of guest check-in events received from the hotel PMS. Guest records both with and without contact information are counted.

Invites Sent

 

When there are two contact mediums for one guest (e.g. both the mobile number and email are used) two invitation messages are sent to the guest. This metric report counts the number of guests that were notified successfully (and not the number of messages sent).

Invites Opened

 

The count of guests who have clicked the invitation link in at least one invitation message.

Conversations started

 

The count of guests who have initiated either a Messenger conversation or an OnDemand request.

Follow-ups

 

The count of 'back and forth' exchanges between staff and customer. Each set of guest messages that is then followed by a set of staff messages is counted as one follow-up.
Chat Pair Example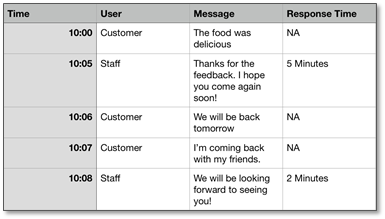 In the example above, the following metrics are detailed for clarity:
Message Response Time:5 minutes (median of 5 minutes and 2 minutes is 3.5 minutes).
Notes: the median amount of time it takes staff to respond to a customer's message. A timer begins when the customer first sends a message; that timer ends when a member of the staff first responds. If a customer sends multiple messages in a row, only the first message is used to calculate Message Response Time. Because of the way this metric is calculated, a single conversation may contribute to the Message Response Time metric more than once.
Follow-ups: 2 (the first is counted at 10:05 and the second follow-up is counted at 10:08).
Message Count: 5 (a total of five messages sent).
Back to Loop Reporting Overview